The Bow of the Great Sea is an artifact that appears in a chest on the top of Kinolangdanzel Tower. Its stats are very similar to that of the Daedric Bow. It cannot be crafted, but it can, however, be tempered.
The Bow of the Great Sea appeared during the Battle of a Thousand Heroes, wielded by the Hero of Winds. After the fall of Hyrule, the bow was discovered by Dwemer during the construction of Kinolangdanzel. The bow was repaired and placed at the top of Kinolangdanzel Tower, intended to be used in dire circumstances. If the tower was attacked, an archer would have climbed the tower and would have used the bow to fend off enemies.
Background and Inspiration
Edit
The Bow of the Great Sea was added to the mod in version 3.0 with Kinolangdanzel. It is a Dwarven Bow retextured to resemble the Hero's Bow from The Wind Waker. Its name is intended to distinguish it from the Hero's Bow. Its placement at the top of Kinolangdanzel Tower is a reference to its location in The Tower of the Gods in The Wind Waker.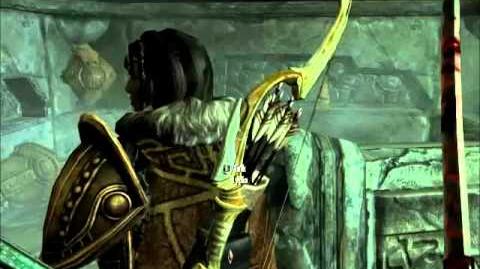 Ad blocker interference detected!
Wikia is a free-to-use site that makes money from advertising. We have a modified experience for viewers using ad blockers

Wikia is not accessible if you've made further modifications. Remove the custom ad blocker rule(s) and the page will load as expected.