The Ancient Enchanter is generally used for magic-based Zelda crafting. There is one located in The Midden, one in Pale Stone Camp, one in Cragwallow Slope, one in Ganon's Tower, and another in the Triforce Shrine.
Prior to 6.4, if the player played the Song of Time on the Ocarina of Time in the presence of an Ancient Enchanter, the Ancient Gate Key became craftable.
Background and Inspiration
Edit
The Ancient Enchanter was originally a re-purposed and re-meshed Arcane Enchanter from the standalone Golden Goddess Spells mod. It was later merged into Relics of Hyrule.
The enchanter found in Cragwallow Slope was placed there secretly and not advertised whatsoever, allowing players to stumble across it while adventuring.
The Ancient Enchanter was given a new mesh in Version 6.0 of Relics of Hyrule, using the Magnus' Enchanter mesh and texture by JetSteele, with a slight modification.
The dim light hovering over the Enchanter is meant to represent the dwindling power of Hyrule's magic and the mysterious nature of the Enchanter itself. The Enchanter in the Triforce Shrine has a brightened light because of its proximity to the Golden Goddess Statues, which still carry potent magic power.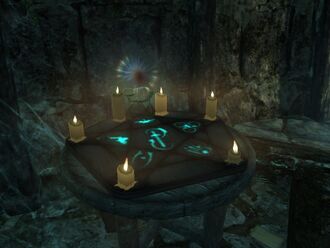 Ad blocker interference detected!
Wikia is a free-to-use site that makes money from advertising. We have a modified experience for viewers using ad blockers

Wikia is not accessible if you've made further modifications. Remove the custom ad blocker rule(s) and the page will load as expected.